About APAC & NAAPAC
Learn about the multifamily industry's most influential political action committees.

What is PAC?
The purpose of a political action committee (PAC) is simple: to raise funds and elect candidates who understand and support our issues and interests.
Why Should I Get Involved?
The South East Florida Apartment Association (SEFAA) is the leading advocate for housing providers in Southeast Florida. SEFAA is seeking to make a difference in the multifamily industry and strives to provide a quality standard of living for the residents in the South Florida area. The ability of apartment owners to continue to provide safe, affordable rental housing to our residents, and deliver valued services to them – while doing this effectively, efficiently, and profitably – rests on the continued financial strength of APAC and NAAPAC.
About SEFAA and APAC
SEFAA and the Apartment Political Action Committee (APAC) are two organizations in the multifamily housing industry that are focused on providing affordable and safe housing. These organizations work together simultaneously to advocate for or against bills that go through the government and legislation in order to attain positive growth and funding for the industry.
What is APAC?
The main goal of APAC is to help advance the interest of its members through political advocacy at state and local government levels. The purpose is to increase funds and select candidates that support and want to make a difference in interests and issues within the community. One of the main bills APAC has passed is HB 535, which allows CAMTs to work on HVAC, AC, and water heaters. Another main objective of APAC is to create housing funds without raising taxes; the organization strives to provide safe and affordable housing for the community.
What is NAAPAC?
The National Apartment Association Political Action Committee (NAAPAC) is NAA's political action committee and an essential arm of the NAA's advocacy on behalf of the apartment housing industry. NAAPAC is a bi-partisan PAC that supports Congressional candidates who represent the good government and understand the needs and concerns of the multi-family housing industry.
Donate & Participate
There are many ways to get involved and help make a difference:
Join SEFAA and become a member for access to PAC supported events
Make a monetary donation to NAAPAC/APAC by contacting our office today (800) 627-7921
Attend a PAC supported event and purchase a raffle ticket to contribute
Register for the FAA Legislative Conference, joining SEFAA members at the Florida Capitol
Register for the NAA Capitol Conference, joining SEFAA members in Washington, D.C.
---
Resources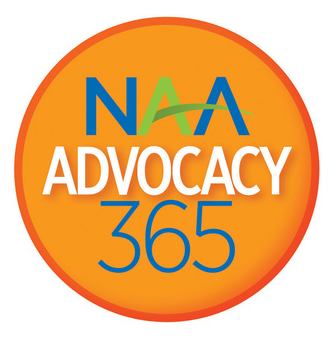 Use the NAA Advocacy 365 app for alerts on key issues and easy access to your congressional representatives. Use the NAA Advocacy 365 app for alerts on key issues and easy access to your congressional representatives.
Click here to download the app.

Stay up to date with the latest government affairs issues through the FAA website. FAA's government affairs team monitors proposed legislation that could affect Florida's multifamily industry and advocates on your behalf. Updates are issued regularly during the state's legislative session and as needed throughout the year.
Click here to find officials, sign up for email alerts, and more.
Contact our office at (800) 627-7921 to make a donation to APAC or NAAPAC.