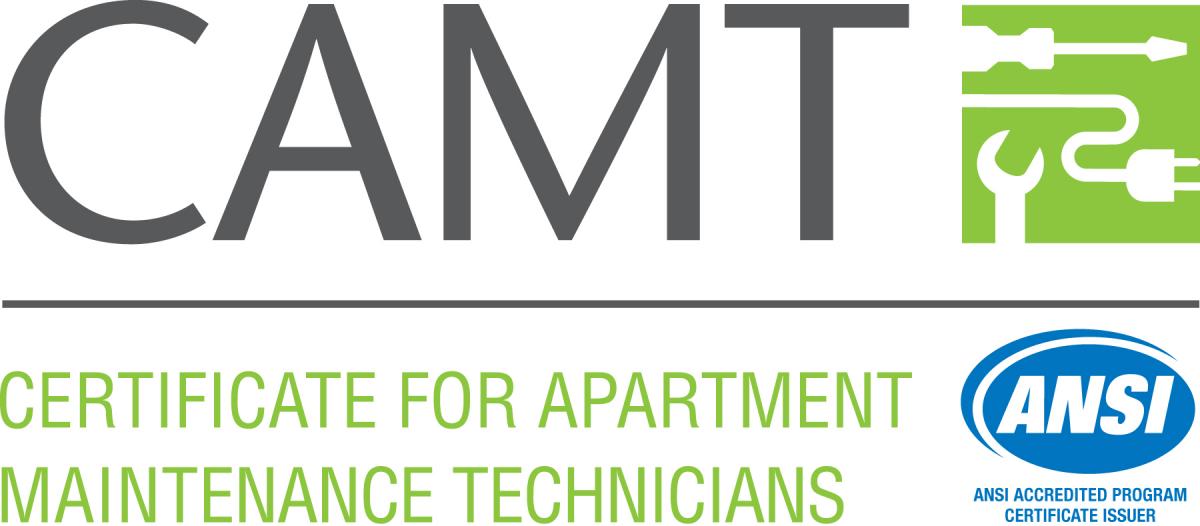 Build your skills and advance within your industry!
IMPORTANT: New Maintenance Technician Requirement Effective January 2018
On January 1, 2018 a new maintenance technician requirement for all Palm Beach County apartment communities went into effect. In addition to the National Apartment Association CAMT, a maintenance technician performing minor repairs to existing electric water heaters or to existing electric heating, ventilation and air-conditioning systems is now required to also have a
Palm Beach County Maintenance Technician Certification.
Click Here to Review the Technical Certificate Standards
Obtaining your CAMT is the first step to earning the newly required Palm Beach County Maintenance Technician Certification. A CAMT validates your knowledge, enhances your reputation and credibility, boosts your confidence and earns you respect.
---
Thank You to Our Official Class Host:

---
2019 Dates
Hialeah: Jan 8, 10, 22, 25, 29, 31
Rivera Beach: Sep 10, 12, 17, 19, 24, 26
---
CAMT COURSE FLYER Scholarship Application
About CAMT Exam camt completion checklist
---
You will learn:
Processing work orders correctly in a timely fashion, and to residents' satisfaction
Electrical services and repairs
HVAC services and repairs
Painting services
Construction services and repairs
Mechanical services and repairs
Appliance services and repairs
Lock and key services and repairs
Customer service and performing maintenance tasks according to company policy and procedures
Minimizing personal and property damage while safely performing maintenance activities
Fair housing regulation compliance
Environmental responsibility and regulatory compliance
Reporting and documentation of maintenance activities in compliance with company policy and regulation
Curb appeal, property inspection, and daily maintenance
Established procedures for maintaining recreational facilities and common areas
Implementation of a preventive maintenance schedule
Repair and replacement decisions
Professional behavior patterns, communication skills, and appearance
Clear and respectful communication with residents, team members, and contractors
Requirements:
To obtain the CAMT credential, candidates must complete the following:
Minimum of 12 months of apartment or rental housing maintenance experience. (This can be obtained while taking the course, you will receive a provisional certificate until this requirement is met.)
Successful completion of all CAMT coursework (totaling 80 hours)
Meet all examination standards within 12 months of declaring candidacy
---
Interested in Becoming a Premier Education Partner?
Email partnerships@sefaa.org or click here for more information.
YOUR LOGO COULD BE HERE
Receive speaking time on-stage at major events and MORE by becoming a 2018 PEP.