Back to Events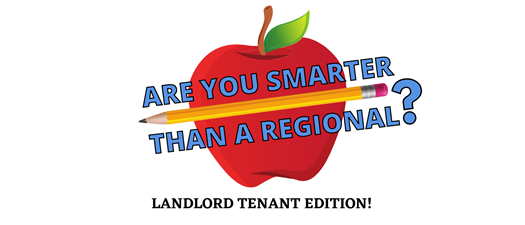 Landlord Tenant Seminar & Board Induction (Virtual)
Thursday, January 28, 2021
Zoom Webinar - Instructions along with the link to access the presentation will be sent to registered attendees.
Event Details
Are You Smarter Than a Regional?
Class is in session! Grab your pen and be sure to take notes because there's always a chance for a pop quiz! Join SEFAA and the "professors" at Barfield, McCain P.A. for the annual Landlord Tenant Seminar with a special "Are You Smarter Than a Regional" twist to America's favorite game show.
Experience a full day of education while engaging in a trivia competition against your Regional Managers! Attendees will earn (4) Continuing Education Credits (CECs) while brushing up on the latest ever-changing laws, regulations, and industry concerns. The seminar will direct the attention of the class (the audience members) through a range of topics and include a short recess for lunch. Attendees will learn how to implement the current law to protect their communities and their residents.
As the first signature event of the year, we'll also celebrate the induction of SEFAA's 2021 Board of Directors. New leaders will stand in front of the class to accept their positions for the upcoming year.
Outline of Topics:
Landlord Tenant Law - The Definition
The Fundamentals of the Eviction Process
The Different Types of Eviction Actions
Pertinent Florida Landlord Tenant Statutes
Three Day & Seven Day Notices; Back to the Basics
Notice of Non-Compliance by Tenant
Partial Rent Payments & Wavier
Lease Renewals
The CARES Act
State and Federal Eviction Moratoriums
Navigating the Eviction in the Midst of a Pandemic
Federal Order Issued by the CDC
Fair Housing/Broward/Dade Ordinance
Service/Support Animals
Medical Marijuana-Legislative History
Breach of Contract Damages
Security Deposit Requirements
Current Industry Hot Buttons
Judges Know Best
Court Appearances and Judicial Processing
Putting on the "Writs"
Know the Law; Protect your NOI
Settlement Stipulations
Featured Presenter:
Barfield, McCain P.A. is an AV–rated® real estate law firm that is recognized throughout Florida's multi-housing industry for providing superior, cost-effective legal services to landlords, management companies and real estate professionals. An AV rating by Martindale Hubbell, www.martindale.com, indicates that a lawyer has reached the height of professional excellence and is recognized for the highest levels of skill and integrity. Barfield, McCain, P.A. has been a leader in landlord representation in Florida for over 30 years.
The Firm and its members have served and continue to serve the local, state, and national apartment associations in volunteer capacities as both directors and on various committees.  The Firm has been published on numerous occasions in FAA's Multifamily Florida quarterly publication and frequently teaches Landlord-Tenant legal seminars, Fair Housing legal seminars, and CAM seminars to property management companies and property managers throughout the state. Presenting on behalf of the firm will be David Setaro, Ryan McCain, Darren Ayoub, and Elizabeth Rivera.
---
*Event prices and dates are subject to change.
CANCELLATION POLICY: Cancellations and No-Shows are still responsible for payment. If you cannot attend the event, please remember that your registration is transferable for the same event. If you send someone to replace the original registrant, please ask that person to give the name of the person they are replacing at check-in. This will help prevent double billing.
Accounts Receivables: If your account is past due 60 or more days, you will not be able to register for any of our upcoming programs, seminars or educational events until your account is brought up to current. Account can be brought current through Member Compass or calling the SEFAA office at 561-447-0696.
Agenda
January 28
9:50 AM - 10:00 AM

Check-in: Waiting Room will Open

10:00 AM - 10:30 AM

Opening Remarks and 2021 Board Induction

10:30 AM - 12:00 PM

Landlord Tenant Seminar

12:00 PM - 12:30 PM

Break

12:30 PM - 3:00 PM

Landlord Tenant Seminar
For More Information:
352 NE 3rd Avenue
Delray Beach, Florida 33444
800.627.7921