2020 Florida Legislative Session Update
Date posted
April 13, 2020
The Florida Legislature officially adjourned Sine Die on Thursday, March 19, 2020, after a brief extension to complete negotiations on the Florida budget. FAA had a very successful session, with important victories on key issues.
2020 Session Update
Priority #1 – Protect the Sadowski Affordable Housing Trust Fund
Outcome: The Sadowski Trust Fund was fully funded at $370 million.
---
Priority #2 – Reduce Emotional Support Animal Fraud and Abuse
Outcome: Legislation sponsored by Senator Manny Diaz and Representative Sam Killebrew was approved. A quick reminder that this bill will allow a housing provider to request from an individual whose disability-related need is not readily apparent, reliable information that is reasonable to support the need for such an animal in housing. Consistent with HUD guidelines, reliable information includes a federal determination of disability or receipt of disability benefits. Information may also come from a licensed provider acting within his or her scope of practice. If the resident has more than one ESA, the housing provider can request reliable information for the disability-related need associated with each animal. Finally, the bill clarifies that online certificates or similar items purchased online for a flat fee do not, on their own, constitute reliable verification that an individual has a disability or disability-related need for an ESA.
What's Next: The bill will be transmitted to Governor DeSantis for review. Upon receipt, he will have 15 days to sign, veto or allow the bill to become law without his signature. Standby for a possible FAA call-to-action to share support for this bill with the Governor.


Other Items of Interest that Passed:
HB 1339 – Affordable Housing: Authorizes local governments to approve the development of affordable housing on any parcel zoned for residential, commercial, or industrial use. It also addresses linkage fees by local governments by requiring them to offset the developer's costs for linkage fees through other incentives. This is similar to what was approved related to inclusionary zoning.


HB 469 – Real Estate Conveyances: The bill provides that no subscribing witnesses are required for a lease of real property or any instrument pertaining to a lease of real property. The bill eliminates the requirement that two subscribing witnesses be present when the lessor, or lessor's lawfully authorized agent, signs a lease with a term of more than 1 year.


SB 374 – Housing Discrimination: Removes the requirement that a tenant exhaust administrative processes prior to filing a civil action. This issue has been filed for several years and did pass this year. FAA and the business community have opposed for many years.


Other Items of Interest that Did Not Pass:


SB 910/HB 6013 – Rent control Measures: Bill would have repealed state preemption on rent control.
HB 1528/HB 6069 – Landlords and Tenants: Deletes provision providing that the failure to pay rent into a registry of the court constitutes an absolute waiver of defense in eviction proceeding.
HB 1449 – Residential Tenancies: Catch-all tenant's rights; includes all provisions in other bills as well as some new.
SB 1852 – Landlords and Tenants: Similar catch-all tenant's rights; includes provisions in other bills as well as some new.
---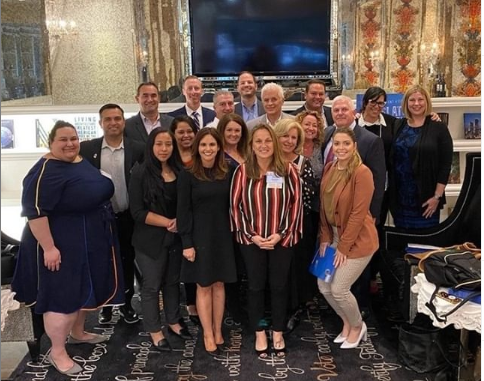 2020 FAA Legislative Days
SEFAA members participated in FAA's legislative days in Tallahassee on January 28-29, 2020 and met with numerous state legislators and legislative staff.

2020 NAA Advocate Days
SEFAA members participated in NAA Advocate Days and met with congressional staff in the offices of the U.S. House of Representatives.
Congresswoman Frederica Wilson
Congressman Ted Deutch
Congresswoman Lois Frankel
Congresswoman Debbie Wasserman-Schultz
Congresswoman Debbie Mucarsel-Powell
---
Learn More
For more information about other legislative news related to the multifamily housing industry, visit the Advocacy tab located at the top of our website. If you have any specific questions, you can also email governmentaffairs@sefaa.org