AppFolio's Property Management Data Upgrades Help Fast-Growing Tzadik Management Group to Thrive
Date posted
August 16, 2021
Tzadik Management Group is a fast-growing company that manages more than $400 million in real estate with over 7,000
units. It has proudly taken the lead when it comes to technology.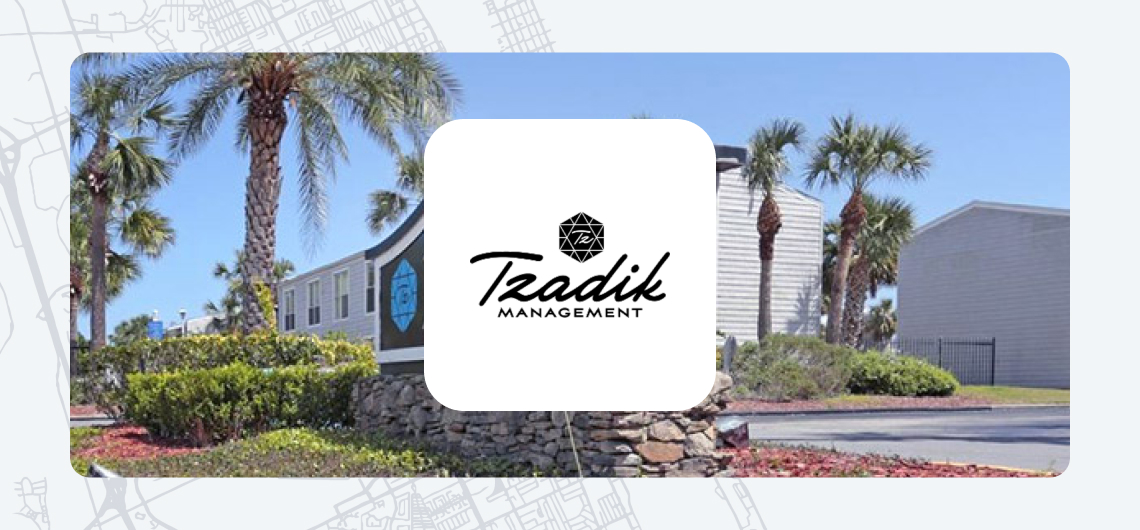 Based in Miami, its portfolio in recent years has expanded to five states and it looks to do even more, now that it has found greater efficiencies by using AppFolio Property Manager Plus.
The Tzadik team has found AppFolio to be a solid, real-time platform, allowing it to interact on-the-go, and manage from responsive reporting to measure results. This product upgrade has met the needs of its wide-ranging property classes, including payments, approvals, and reporting.
Tzadik has leveraged AppFolio's technology to aid and support its fast-paced growth. Their team is able to provide financial statements and information that customers need on a daily basis as well as the key information needed by site staff.
Nadine Norene, Controller at Tzadik, said, "Being a company that has different lines of real estate properties across multiple states, our needs based on region and type of business can many times vary and AppFolio has been very adaptive not only to our needs but also to the needs of our residents and clients."
Focused on growth, Tzadik is constantly acquiring new properties and expanding their team, meaning that training and onboarding are critical, and always ongoing. AppFolio's diverse offerings streamline that process, including in accounting.
"With AppFolio's suite of services, we have been able to automate our payables process, from the initial entry of the invoice, through the different levels of approval and payment," Norene said.
"Being able to partner with a company that is focused on development and enhancements that positively impacts their clients leads to ease in the navigation of the platform and concrete solutions to everyday problems. AppFolio's customer service has and continues to be outstanding."
That customer service has made a big difference, the company says, setting AppFolio apart from its technology competitors.
The AppFolio Property Manager team helped Tzadik during its transition by formatting Tzadik's data and provided a project plan and a timeline to review and import it into the database. The initial import included a portfolio totaling 750 units that had been tracked on paper. AppFolio helped translate and digitize the information so it could be imported properly into the system.
Working on a tight deadline of two weeks, this new technologically savvy portfolio went live within that time. During every phase of the migration, AppFolio delivered weekly updates and check-in calls to make sure everyone was on time with the migration and bring critical items to the forefront to address. Ultimately, all deadlines were met and the company went live on the date Tzadik decided without any delays.
AppFolio's customer service went above onboarding. Norene said, "During COVID-19 Tzadik was 100 percent committed to serving our residents and the AppFolio team was right there with us. We were always able to pick up the phone and connect with someone in real-time to get issues resolved."
Tzadik's current focus is to grow across multiple markets in the United States simultaneously while raising capital to acquire more units. Streamlined processes across its offices, efficient training, onboarding of team members, and getting properties into its database are all paramount to running operations smoothly and continuing to scale rapidly. Their partnership with AppFolio has played a big role in that growth.
Visit www.appfolio.com to learn how a partnership with AppFolio can bring you closer to your growth goals.
This article is a sponsored post from AppFolio.