Back to Events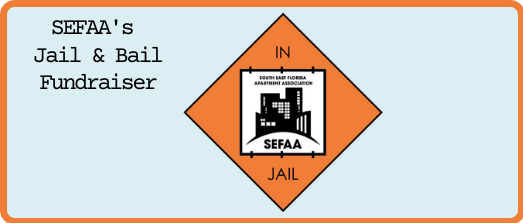 Jail & Bail Fundraiser
Let's play and raise funds for NAAPAC
Thursday, August 18, 2022
Event Details
Suppliers: Purchase your $75 ticket to attend the event. This will go toward attending the event (including the Membership Mixer) and $50 toward the "bailout" of your choice. You can also donate on the day of the event online or by phone. Please use your personal credit card to support NAAPAC.
The Jail & Bail event is a VERY entertaining fundraiser that consists of SEFAA Board Members and management staff who volunteered to be "arrested," and placed at "SEFAA Jail" for the day. "Bailiffs" are responsible for donating money to "bail them out."
Benefits
All "bail fees" will go to support the National Apartment Association's Political Action Committee (NAAPAC) and our industry advocacy efforts at the national level
In-Person Donors will get a chance to spend time with those who volunteered as a jailbird 
Virtual Donors are welcome. Bailout fees will be accepted via phone or online on day of the event.
Jailbird Rules
The participating jailbird is an individual from a management company or property
Each jailbird must raise their assigned bail fee to be released
No shows will be penalized with a payment. 
Jailbirds Roster:
| | | |
| --- | --- | --- |
| Name  | Company Name | Reason why Arrested |
| Adanise Cross | Bozzuto Management | "has never seen an eclipse" |
| Alfredo Sobalvarro | FLF Holdings | "stole a putter at Top Golf during Maintenance Social" |
| Andy Bermudez | Camden Property Trust | "jumps into Bass Pro Shop fish tank - claims hangry" |
| Ashley McIntosh | Greystar | "skipped too many morning meetings" |
| David Daily | Fairfield Residential | "Changing all the winners names at Circle of Excellence Award Ceremony to David Daily" |
| Francesca Radabaugh | SEFAA | " for sneaking her painting into the Guggenheim Museum" |
| Jeremy Milton | RangeWater Real Estate | "wouldn't smile" |
| Jeremy Scholl | Greystar | "swore once" |
| Jessica Romero | RangeWater Real Estate | "for never being on camera during meetings" |
| Johnny De La Espriella | Rivergate KW Residential | "Pepsi instead of Coke" |
| Keri Walker Pfeifer | Bozzuto Management Company | "doesn't like the beach" |
| Marianne G. Conner | FCI Residential | "ate her kids' Halloween candy" |
| Mark Kravitz | Jenco Properties | "didn't eat his veggies" |
| Myka Staryk | ZRS Management, LLC | "in the red" |
| Osvaldo Ochoa | Highmark Residental | " yelling at the referee for making a bad call at his team's hockey game" |
| Patrick Lewis | AvalonBay Communities | "for speaking too quiet at the mic" |
| Sara Cox | Cushman & Wakefield | " snuck into the SEFAA office to steal the Volleyball trophy" |
| Stephanie Mathieu | Lincoln Property Company | "was absent half of 12th grade" |
| Yanira Herrera | Rivergate KW Residential | "brought her cat to school" |

Bondsman Rules
The participating bondsman is a supplier 
A portion of the registration fee will be applied to the bail amount. $50 credits will be applied to your bailout donation (applicable to in-person donors).
Also, attend the mixer from 6pm-8pm if you come to the Jail and Bail event with your ticket to this event.
Support the Industry!
Contribute to the multifamily industry's credibility and collective success by showing your support, either volunteering to be "arrested" or playing "bondsman." 
STEP 1 -  Register under Jailbird (management) or Bondsman (supplier) ticket
STEP 2 -  Release a Jailbird by donating under their ticket name 
*Event prices, dates, and times are subject to change at any time.
CANCELLATION POLICY: Cancellations and No-Shows are still responsible for payment. If you cannot attend the event, please remember that your registration is transferable for the same event. If you send someone to replace the original registrant, please ask that person to give the name of the person they are replacing at check-in. This will help prevent double billing. 
Accounts Receivables: If your account is past due 60 more days, you will not be able to register for any of our upcoming programs, seminars or educational events until your account is brought up to current. The account can be brought to the current through Member Compass or by calling the SEFAA office at 561-447-0696
Agenda
August 18
3:00 PM - 5:00 PM

Jail and Bail

5:00 PM - 8:00 PM

Jail and Bail and Membership Mixer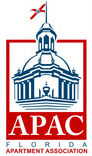 What is NAAPAC?
The National Apartment Association Political Action Committee (NAAPAC) is NAA's political action committee and an essential arm of the NAA's advocacy on behalf of the apartment housing industry. NAAPAC is a bi-partisan PAC that supports Congressional candidates who represent good government and understand the needs and concerns of the multi-family housing industry. Click here to learn more!

*Important: NAAPAC accepts personal check and personal credit card ONLY. NAAPAC cannot solicit nor accept contributions from corporations. Please note the event registration and any additional donations must be paid with a personal check or personal credit card.