Back to Events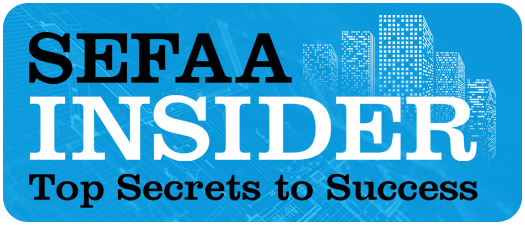 SEFAA Insider Virtual
Tuesday, March 22, 2022
* Registration open until 3/21/22 at 3:00 PM ()
Event Details
Make the Most of Your Membership!
Join the South East Florida Apartment Association at SEFAA Insider: Top Secrets to Success meeting. Members and prospects will have the opportunity to learn the privileges and benefits of being a member of the association and the different tools available for them to maximize their membership.
Who Should Attend
Management Companies, Communities, and Suppliers who would like to know more about maximizing your membership
Industry professionals looking to join and/or learn more about SEFAA
Industry professionals looking to be more involved in the industry


What You Will Learn
Learn membership benefits and tools
Find out about our volunteer opportunities
Discover educational programs and networking opportunities
Learn more about our Political Action Committee (PAC)
Explore partnership opportunities
And more...


For any questions, please contact events@sefaa.org
---
*Event prices and dates are subject to change.
CANCELLATION POLICY: Cancellations and No-Shows are still responsible for payment. If you cannot attend the event, please remember that your registration is transferable for the same event. If you send someone to replace the original registrant, please ask that person to give the name of the person they are replacing at check-in. This will help prevent double billing.
Accounts Receivables: If your account is past due 60 or more days, you will not be able to register for any of our upcoming programs, seminars or educational events until your account is brought up to current. Account can be brought current through Member Compass or calling the SEFAA office at 561-447-0696.
Agenda
March 22
8:50 AM - 9:00 AM

Check-in

9:00 AM - 9:30 AM

SEFAA Insider: Top Secrets to Success

9:30 AM - 10:00 AM

Live Q&A
For More Information:
352 NE 3rd Avenue
Delray Beach, Florida 33444
800.627.7921

What is PAC?
The purpose of a political action committee (PAC) is simple: to raise funds and elect candidates who understand and support our issues and interests.
Why Should I Get Involved?
The ability of apartment owners to continue to provide safe, affordable rental housing to our residents, and deliver valued services to them – while doing this effectively, efficiently, and profitably – rests on the continued financial strength of APAC and NAAPAC. Our involvement offers us a seat the table, increased credibility and influence, and of course continued success within the industry.
For more information visit: https://www.sefaa.org/apacnaapac
Donate Today!