The Community Service Committee is supporting Move for Hunger, a national non-profit organization that has created a sustainable way for multifamily apartment communities to reduce food waste and fight hunger. Join SEFAA and the Community Service Committee in supporting this important local organization through monetary or food donations.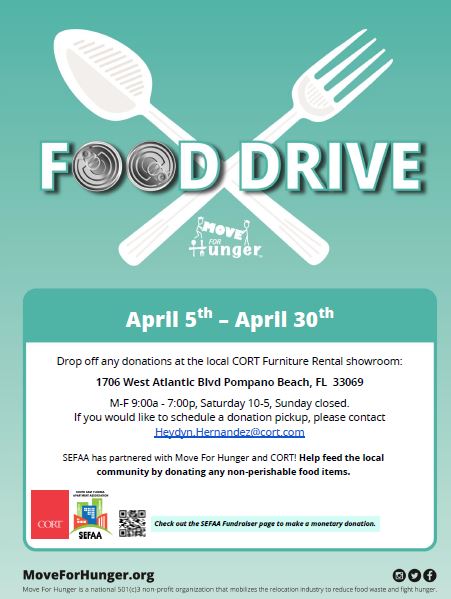 Get Involved & Join the Fight!
About Move for Hunger
They're working with more than 1,500 apartment communities across the United States to make moving out a more sustainable and socially responsible process. Move For Hunger provides your residents with the opportunity to donate their food when they move.
To date, Move For Hunger has collected more than 17 million lbs. of food and provided more than 14 million meals to families who are facing hunger. Many of the leaders in the multi-family industry, including several members of the Southeast Florida Apartment Association, are already supporting this cause.
This year, we will be hosting a Food Drive and Fundraiser to help feed families in need. For the Food Drive, we encourage you to collect non-perishable food items over the course of April. At the end of the month, you will have the opportunity to either bring your collection to our drop-off location OR arrange for one of our transportation partners to pick up your donations and deliver them to the local food bank. For the Fundraiser, you can visit our webpage and contribute a monetary donation to help fund future meals!
If you are interested in partnering with Move for Hunger, please visit MoveForHunger.org or email Bridget Foley to learn more about how you can support their mission to reduce food waste and fight hunger.