COVID-19 Update & Resources
Date posted
October 6, 2020
SEFAA's Message Regarding COVID-19
Due to the continuation of COVID-19 (commonly known as Coronavirus), SEFAA felt it was important to address this topic directly with our members and provide them with the reassurance that we are taking every precaution to ensure their safety and health remains a top priority.
Our staff is actively monitoring the news and reports from the Center for Disease Control and Prevention (CDC), along with assessing the potential impact on the multifamily housing industry. Please read below for important updates and resources.
As SEFAA continues its efforts to request guidance specific to the operation of rental housing from our parent organizations, local affiliates, and health officials, please refer to the below list for best practices and valuable resources to review during this time.
Please note: The following resources and information are provided for general and informational purposes only. This information is subject to change. Please check back for updates.
It is important to recognize that SEFAA, its affiliates and individual members are not health care professionals. The CDC and other qualified health officials should continue to be the primary source of current information and guidance. SEFAA is offering general, precautionary guidance from officials, and also adding some common-sense guidelines for our industry in the interest of promoting a proper amount of caution at this time.
---
NEWS AND UPDATES
ACROSS SOUTH FLORIDA
Effective Immediately: Governor Ron DeSantis issued Executive Order 21-102, suspending all remaining local government mandates and restrictions based on the COVID‑19 State of Emergency.
Effective April 19: The Consumer Financial Protection Bureau (CFPB) issued a
rule
related to the Centers for Disease Control and Prevention (CDC)'s
eviction moratorium
, which was extended through June 30, 2021. The rule is designed to prevent what the administration has referred to as "illegal evictions" that have taken place despite the protections in the CDC order.
The CFPB's new
rule
requires debt collectors
—
including an agent or attorney acting as a debt collector on behalf of a landlord or owner of the residential property
—
to provide written notice to tenants of their rights under the federal eviction moratorium, and prohibits debt collectors from misrepresenting a tenant's eligibility for the protections established by the order.
Effective Immediately: The U.S. Centers for Disease Control and Prevention (CDC) extended its federal eviction moratorium order through June 30, 2021. The announcement included modifications, while the core elements of the order remain in effect. Click here to learn more.


The U.S. Department of the Treasury issued updated Frequently Asked Questions (FAQs) for the Emergency Rental Assistance Program (ERAP), a $25 billion dollar grant program established by Congress in the December COVID-19 relief package.
Effective Tuesday, November 3: Earlier this month, Florida Housing Finance Corporation (FHFC) removed the income limit restriction for rental assistance, which may result in local governments changing their application criteria for existing rent relief programs. Click here to find a list of rent relief programs in your municipality.
FHFC has created a Coronavirus Relief Fund (CRF) Manual, which goes into more detail regarding CRF funds.
On August 31, Governor DeSantis issued Executive Order 20-211, which extends the limited eviction protections established by Executive Order 20-180 through October 1, 2020.
On July 29, Governor DeSantis issued Executive Order 20-180,

which provides a limited extension of the original eviction moratorium that was issued in

Executive Order 20-94

. Executive Order 20-180 included important revisions, which will allow evictions, even cases for nonpayment of rent, to be filed and processed by the courts.

Click Here for More Information

Effective Immediately:

Governor Desantis released Executive Order 20-159, extending the moratorium on evictions until August 1.

Click here to View Executive Order 20-159

Effective June 5, 2020, at 12:01 AM:

Governor Desantis issued Executive Order 20-139, which allows Florida to enter Phase 2 Recovery and Reopening plan for all counties EXCEPT for Miami-Dade, Broward, and Palm Beach. For those counties to enter Phase 2, they are required to submit a plan for doing so, which must be approved by the state. This is consistent with the Phase 1 opening procedure.
Click Here to View Executive Order 20-139

Effective Immediately:

Governor Desantis released Executive Order 20-137, extending the moratorium on evictions until July 1.
Effective Monday, May 18 at 12:01 AM: Executive Order 20-123: The Governor's order moves the state into a "Full Phase 1" by expanding the list of businesses that may open to include gyms and professional sports venues, under certain conditions.

Effective May 18 at 12:01 AM:

Executive Order 20-122: This order authorizes Broward and Miami-Dade Counties to enter Phase 1 of reopening —known as the "Safe. Smart. Step-by-Step. Plan for Florida' s Recovery."
State of Emergency Extension, Effective Immediately on May 8: Governor DeSantis issued Executive Order 2020-114, extending Florida's state of emergency declaration an additional 60 days.

Statewide Stay-at-Home Order, Effective Immediately on April 3:

Governor DeSantis issued Executive Order 20-91, requiring all persons in Florida to limit their movements and personal interactions outside of their home to essential services or activities only (as outlined by the Department of Homeland Security). The mandatory order will take effect on Friday, April 3 at 12:01 a.m. and is set to end on Thursday, April 30, unless extended by a subsequent order. NOTE: Municipalities may order more restrictive closures or measures, therefore it is important for people to closely review the policies and laws within their incorporated boundaries.

Mortgage Foreclosure & Eviction Relief, Effective Immediately on April 2:

Governor DeSantis issued Executive Order 20-94, which provides targeted, temporary relief for certain mortgage foreclosures and evictions for 45 days. This suspends and tolls any statutory mortgage foreclosure and/or eviction cause of action for non-payment of rent for 45-days under Florida law. According to the order, people are still liable to make their mortgage payments and/or rent payments, as it does not relieve this obligation.

Effective Immediately on March 26:

The Department of Revenue for the State of Florida issued an Order of Emergency Waiver, which extends the payment deadline of property for citizens and businesses from March 31 to April 15.
This official State Order details all specific deadlines and postponements at the state level: COVID-19 Emergency Procedures in the Florida State Courts
Find all current court closures and restrictions on a national and state level: Coronavirus: The Latest Court Closures and Restrictions
Curfews, Closures and More: South Florida Responds to Coronavirus: Read the latest closures, curfews and limits in place across counties in South Florida.
Coronavirus Threatens Supply Chain for South Florida Construction Projects: Properties in construction or going into development may be delayed due to limited supplies.


---
PALM BEACH COUNTY
Effective Immediately: Palm Beach County is now accepting applications for Rental and Utility Assistance. Landlords have 14 days to register as a vendor with the county starting today (Wednesday, March 10).
Click Here to attend the training (Wednesday, March 10)
Click Here to learn more on the PBC Rental Assistance website.

Effective Immediately: Governor DeSantis has issued Executive Order 20-214, which allows Palm Beach County to move into Phase 2 of reopening. Following the Governor's order, Palm Beach County has issued Emergency Order 20-24, which allows various businesses, such as movie theaters, bowling alleys and trampoline centers to open, in accordance with CDC guidelines. Palm Beach County has also released a reopening plan, which provides additional information and a timeline for further phased reopenings.
---
BROWARD COUNTY
Effective Friday, July 10 at 12:01 AM: Broward County has issued Emergency Order 20-21. The purpose of the order is to increase regulatory efforts and increase penalties for businesses in violation. Click Here to View the Order
Effective July 2, 2020 at 11:59 PM:

Broward County is requiring the use of facial coverings in all public spaces outside of the geographic boundaries of a person's home in all places where social distancing is not possible.
Click Here to Read the Release

Effective Friday, June 26 at 12:01 AM:

Emergency Order 20-18
Establishments cited for operating in violation of any County Emergency Order shall immediately close for a minimum 24-hour period. Read the full order for reopening details and information on reporting violations.
Click Here to view Emergency Order 20-18

Effective May 18, 2020 at 12:01 AM:

Emergency Order 20-10
This order sets forth guidelines for non-essential businesses that are included in Phase 1, and are able to open with several restrictions. Click Here to view Emergency Order 20-10
Broward Sheriff's official statement to suspend all eviction actions until further notice.

Effective April 29, 2020 at 12:01 AM: Emergency Order 20-08 This order reopens certain parks, golf courses, and other recreational facilities to provide the community with opportunities to exercise and obtain other health benefits during this continuing crisis. The order includes strict guidelines for operations at such facilities

Effective April 11 at 12:01 AM:

All persons who are providing essential services shall wear a facial covering during in-person interactions with the public. Members of the public shall use a facial covering when obtaining essential services.

Effective April 10 at 12:01 AM:

Broward County Administrator Bertha Henry issued Emergency Order 20-06, which clarifies essential businesses and essential services, as well as encourages essential businesses to provide enhanced sanitary practices at their locations.


---
MIAMI-DADE COUNTY
NEW: Miami-Dade Mayor Daniella Levine Cava announced a $60 million relief program for residential landlords that have pending writs of possession with tenants facing eviction. The program will offer those landlords back rent of up to $3,000 per month dating back to March 2020, using federal funding. Click Here to read more
---
MONROE COUNTY
---
LEGISLATIVE UPDATE & GUIDANCE
Given the extensive list of legislative updates and assistance available, SEFAA decided to seek professional counsel from our Government Affairs Director and set up a dedicated page for governmental purposes. Please click below for detailed information on the current executive orders, the federal response, and business resources.
---
AFFILIATE RESOURCES
The National Apartment Association (NAA) has provided guidance for dealing with the Coronavirus, including:
NEW: NAA Open Door: A savings and discount program available exclusively to NAA members, which helps you save time and money on products and services you use every day.
General COVID-19 information
Disaster assistance loans
Toolkit for homeless shelters and continuum of care providers
List of EPA registered antimicrobial products for COVID-19
Media guidance
Q&As for Office of Multifamily Housing Stakeholders
Community cleaning guidelines
The National Multifamily Housing Council (NMHC) has released a COVID-19 Preparedness Guidance booklet for any member of the multifamily housing industry.
Find information on:
Incident response plans at apartment communities
Employee and resident communication
Preventing spread in multifamily communities
Employee leave, telework, travel policies
Plan for potential lapse in services and supplies
Legal liability and obligations
Late payments/flexibility
Self-quarantining residents
Dealing with the aftermath
The Florida Apartment Association (FAA) recently published best practices related to Executive Order 20-71, 20-83, and the Shelter in Place policy. Sample letters are included to communicate this information with employees and residents.
Further information and updates may be found on the FAA COVID-19 resources page.
---
360 Training is offering a FREE COVID-19 Awareness class to help you learn all the basics of COVID-19 symptoms, transmission, and prevention methods, so you'll be able to identify coronavirus and stop it from spreading.
Experts Across Property Sectors Share Best Practices on Coronavirus Safety (WEBINAR): Experts discuss the measures each are taking to promote a safer environment within their properties, for tenants and visitors alike, including:
Waiting 24hrs to enter a building after disinfecting the areas
Increasing the sanitizing stations at all properties
Increasing frequency of cleaning services
Keeping track of visitors in case Coronavirus is identified at a specific apartment
Occupational Safety and Health Administration (OSHA) provides a series of informational fact sheets including: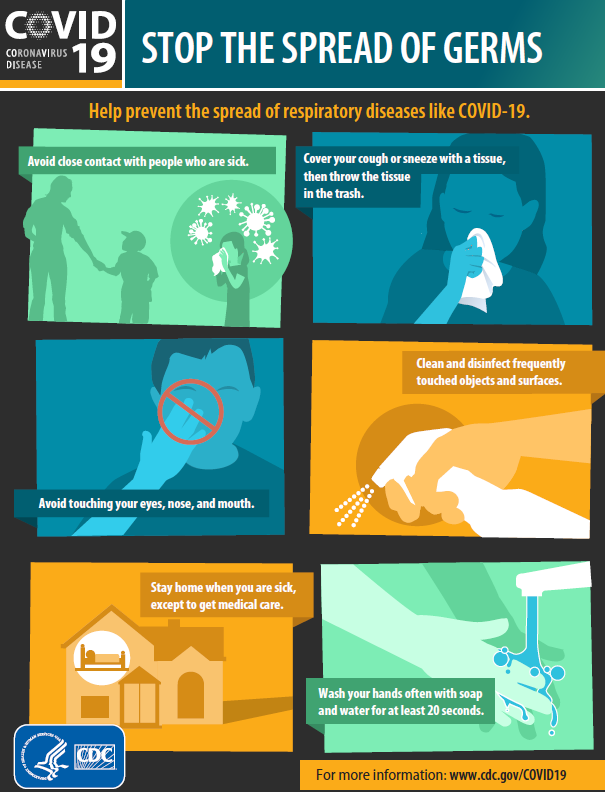 The World Health Organization (WHO) provides information pertinent to other countries being affected by COVID-19 including travel advice, myth busters, situation reports and more.
View the U.S. Department of State's latest Travel Advisories
Centers for Disease Control Fact Sheets: CDC Fact Sheet About COVID-19

The Centers for Disease Control and Prevention (CDC) is providing interim guidance for businesses and employers on recommended strategies for prevention in the workplace, planning for possible outbreaks, and considerations to keep in mind for creating an infectious disease outbreak response plan.

The CDC also has a YouTube channel dedicated to providing the latest information from the CDC about COVID-19.


The Congressional Research Service provides information on Social Insurance and Other Income-Support Options for Those Unable to Work including:
Unemployment compensation
State Temporary Disability Insurance and Medical Leave Insurance
Workers' compensation
Retirement accounts and pensions
The office of Senator Rick Scott has a COVID-19 resource page on their website, with Florida specific information and contacts for local resources.
View a compiled list of Rental Assistance Programs across South Florida, divided up by county.
NOTE: Some of these programs may be exhausted, by may also be reactivated at some point.
Fannie Mae provides resources for renters including; Tips for Talking with Landlords, Renters Resource Finder, and information on the CARES Act.
Miami-Dade County is providing one-time rental assistance grants to low and moderate-income persons that have lost income as a result of the pandemic. The funding will assist those who earn up to 80 percent of AMI, have a lease, and are not participating in other rental assistance programs. Applications will be accepted starting today and close on July 17th at 5:00 pm.
The City of Miramar will make rent or utility payments of up to $7,000 for income-eligible households with no repayment required during the coronavirus pandemic. The program is limited to Miramar residents who meet specific qualifications. The city will begin accepting applications May 22.
Apartment Grants & Rental Assistance Programs: Federal housing grants for rental and apartment housing are now available to assist individuals and families in need.
Directory of grants for single mothers: Find financial assistance programs that help single mothers with rent, utility bills, child care, education, medication, housing, medical bills, and mortgage.
Debt.org offers advice and an extensive list of Rental Assistance Programs & Organizations available to residents.
View different grants and assistance available for Veterans in Florida.
Federal and state grants are available to college students to assist with housing.
Search Resources for Bars and Bartenders impacted by COVID-19 bar closures.
Restaurant Opportunities Centers United provides a list of national and city/state resources available to restaurant workers during the COVID-19 pandemic.
---
CONTACT INFORMATION
If you have an additional resource to share, please email us at marketing@sefaa.org
If you have COVID-19 related questions specific to the multifamily industry operations that are not addressed above, please email NAA at cv19questions@naahq.org.
Finally, for urgent health issues related to COVID-19, we recommend the following options:
Contact the 24/7 CDC-INFO Call Center at 800-232-4636
Contact your county health department
Consult a healthcare provider as soon as possible
Call ahead and tell them before you visit that you think you may have coronavirus so they can take precautions to prevent exposing other people