COVID-19 Update & Resources
SEFAA's Message Regarding COVID-19
Due to recent developments in regards to COVID-19 (commonly known as Coronavirus), SEFAA felt it was important to address this topic directly with our members and provide them with the reassurance that we are taking every precaution to ensure their safety and health remains a top priority.
Our staff is actively monitoring the news and reports from the Center for Disease Control and Prevention (CDC), along with assessing the potential impact on the multifamily housing industry.


EVENT UPDATES
As we navigate the latest health and travel advisories, the wellbeing of our members remains at the forefront of our decisions. The SEFAA Board of Directors has determined to adjust the following events for the time being. Please see below for current updates:
Educational Seminar: Postponed to Thursday, September 17

(Originally scheduled for Tuesday, March 17)



Certified Pool & Spa Operator (CPO) Course: Postponed indefinitely.

(Originally scheduled for Monday, March 23)



April Membership Mixer: Postponed to Thursday, August 13

(Originally scheduled for Thursday, April 2)



Business Exchange: Postponed to Friday, August 7

(Originally scheduled for Monday, April 16)



Fair Housing Seminar: Hosted via Webinar Format on Tuesday, April 24

Check the Event page to sign up and register!



Supplier Success Breakfast: Postponed to Tuesday, August 18

(Originally scheduled for Tuesday, May 5)


If you are currently registered for the above events, a SEFAA member will be in contact with you regarding the next steps.
We will continue to update this specific page as updates become available. As we proceed with our calendar of events, please know that SEFAA is planning to institute additional measures to maintain healthy habits and interactions. We look forward to seeing you!
---
As SEFAA continues its efforts to request guidance specific to the operation of rental housing from our parent organizations, local affiliates, and health officials, please refer to the below list for best practices and valuable resources to review during this time.
Please note: The following resources and information are provided for general and informational purposes only. This information is subject to change. Please check back for updates.
It is important to recognize that SEFAA, its affiliates and individual members are not health care professionals. The CDC and other qualified health officials should continue to be the primary source of current information and guidance. SEFAA is offering general, precautionary guidance from officials, and also adding some common-sense guidelines for our industry in the interest of promoting a proper amount of caution at this time.
---
NEWS AND UPDATES
ACROSS SOUTH FLORIDA
Statewide Stay-at-Home Order, Effective Immediately on April 1:
Governor DeSantis issued Executive Order 20-91, requiring all persons in Florida to limit their movements and personal interactions outside of their home to essential services or activities only (as outlined by the Department of Homeland Security). The mandatory order will take effect on Friday, April 3 at 12:01 a.m. and is set to end on Thursday, April 30, unless extended by subsequent order.

Click Here to View the Full Executive Order 20-91


NOTE:
Municipalities may order more restrictive closures or measures, therefore it is important for people to closely review the policies and laws within their incorporated boundaries. See the Coverage & Guidance section below for what businesses are deemed essential.
PALM BEACH COUNTY
BROWARD COUNTY
MIAMI-DADE COUNTY
MONROE COUNTY
---
COVERAGE & GUIDANCE
Regarding the determination of multifamily housing as essential business, on March 28, the Cybersecurity and Infrastructure Security Agency (CISA), a division of the U.S. Department of Homeland Security, issued an "Advisory Memorandum on Identification of Essential Critical Infrastructure Workers During COVID-19 Response." The memorandum contains an updated "Essential Critical Infrastructure Workforce" advisory list that identifies workers who perform operations and services essential to protecting state and local communities and ensuring continuity in critical functions. On page 15, the guidance calls out "Residential/Shelter Facilities and Services," specifically identifying as essential:


Workers responsible for the leasing of residential properties to provide individuals and families with ready access to available housing.
Workers responsible for handling property management, maintenance, and related service calls who can coordinate the response to emergency "at-home" situations requiring an immediate attention, as well as facilitate the reception of deliveries, mail, and other necessary services.
Workers performing housing construction-related activities to ensure additional units can be made available to combat the nation's existing housing supply shortage.
Workers supporting the construction of housing, including those supporting government functions related to the building and development process, such as inspections, permitting and plan review services that can be modified to protect the public health, but fundamentally should continue and serve the construction of housing (e.g., allow qualified private third-party inspections in case of the government shutdown).



NOTE: The updated CISA memorandum notes that the list is purely advisory and not a federal directive or standard. It also emphasizes that the list is not exclusive and that individual jurisdictions should add or subtract essential workforce categories based on their own requirements. To that end, NAA continues to urge its affiliates to reach out to their state and local governments to ensure that the apartment industry is declared essential during any shelter-in-place declarations. To date, many affiliates have been successful in this advocacy and our hope is that this updated guidance from CISA will aid in those efforts.

SEFAA received information regarding the Families First Coronavirus Response Act, and specifically, the requirements related to the Emergency Paid Sick Leave Act and Tax Credits for Paid Sick and Paid Family and Medical Leave, which may be useful for the multifamily housing industry. The Department of Labor has issued additional guidance since the act was approved. Takeaways include:

Paid Sick Leave for Workers
Complete Coverage
Fast Funds
Small Business Protection
Easing Compliance

In response to the COVID-19 global pandemic, the NAA Click & Lease Program will be updated on April 2, 2020 to include the following changes to your lease forms. The Release Notes, which are accessible when logged into your NAA Click & Lease Program, include copies of these upcoming forms.

Notice of Temporary Waiver of Late Fees
Allows operators to waive late fees incurred by residents who, as a result of COVID-19, are experiencing loss of wages, unemployment, or medical expenses.
Payment Plan Agreement (COVID-19 Pandemic)
Allows a resident who, as a result of COVID-19, are experiencing loss of wages, unemployment, or medical expenses to pay rent and other sums at a later date.
Virginia Only – Rent Payment Addendum (General)
The Virginia Apartment Management Association has provided NAA with a Rent Payment Addendum that can be used for any situation, not just COVID-19 related situations.
Should you have any questions about these changes, please contact NAA. As always, we recommend you and your local legal counsel review all new and/or updated forms before implementing them into your leasing operations.
---
RESOURCES
The National Apartment Association (NAA) has provided guidance for dealing with the Coronavirus, including:
General COVID-19 information
Disaster assistance loans
Toolkit for homeless shelters and continuum of care providers
List of EPA registered antimicrobial products for COVID-19
Media guidance
Q&As for Office of Multifamily Housing Stakeholders
Community cleaning guidelines
The National Multifamily Housing Council (NMHC) has released a COVID-19 Preparedness Guidance booklet for any member of the multifamily housing industry.
Find information on:
Incident response plans at apartment communities
Employee and resident communication
Preventing spread in multifamily communities
Employee leave, telework, travel policies
Plan for potential lapse in services and supplies
Legal liability and obligations
Late payments/flexibility
Self-quarantining residents
Dealing with the aftermath

The Florida Apartment Association (FAA) recently published best practices related to Executive Order 20-71, 20-83, and the Shelter in Place policy. Sample letters are included to communicate this information with employees and residents.
Further information and updates may be found on the FAA COVID-19 resources page.

The Centers for Disease Control and Prevention (CDC) is providing interim guidance for businesses and employers on recommended strategies for prevention in the workplace, planning for possible outbreaks, and considerations to keep in mind for creating an infectious disease outbreak response plan.
The CDC also has a YouTube channel dedicated to providing the latest information from the CDC about COVID-19.

Congressional Research Service provides information on Social Insurance and Other Income-Support Options for Those Unable to Work including:
Unemployment compensation
State Temporary Disability Insurance and Medical Leave Insurance
Workers' compensation
Retirement accounts and pensions
The office of Senator Rick Scott has a COVID-19 resource page on their website, with Florida specific information and contacts for local resources.
---
BEST PRACTICES
Experts Across Property Sectors Share Best Practices on Coronavirus Safety (WEBINAR): Experts discuss the measures each are taking to promote a safer environment within their properties, for tenants and visitors alike, including:
Waiting 24hrs to enter a building after disinfecting the areas
Increasing the sanitizing stations at all properties
Increasing frequency of cleaning services
Keeping track of visitors in case Coronavirus is identified at a specific apartment
Occupational Safety and Health Administration (OSHA) provides a series of informational fact sheets including:
---
OTHER USEFUL RESOURCES
The World Health Organization (WHO) provides information pertinent to other countries being affected by COVID-19 including travel advice, myth busters, situation reports and more.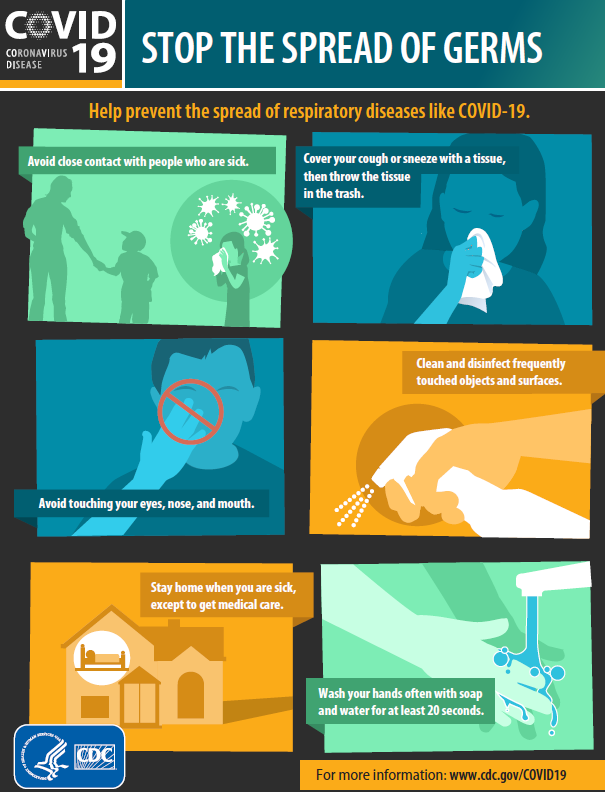 View the U.S. Department of State's latest Travel Advisories
Centers for Disease Control Fact Sheets: CDC Fact Sheet About COVID-19
---
CONTACT INFORMATION
If you have an additional resource to share, please email us at marketing@sefaa.org
If you have COVID-19 related questions specific to the multifamily industry operations that are not addressed above, please email NAA at cv19questions@naahq.org.
Finally, for urgent health issues related to COVID-19, we recommend the following options:
Contact the 24/7 CDC-INFO Call Center at 800-232-4636
Contact your county health department
Consult a healthcare provider as soon as possible
Call ahead and tell them before you visit that you think you may have coronavirus so they can take precautions to prevent exposing other people