Back to Events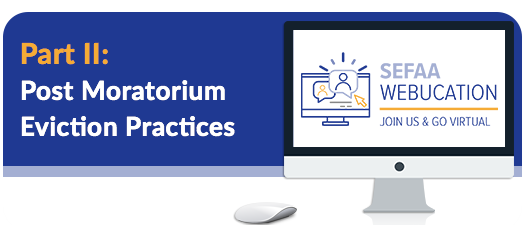 Part II: Post Moratorium Eviction Practices
Wednesday, October 14, 2020
10:00 AM - 12:00 PM (EDT)
Zoom Webinar - Instructions along with the link to access the presentation will be sent to registered attendees.
Event Details
Part II: Post Moratorium Eviction Practices
In this webinar, our industry experts will provide you with important information on the rapidly changing new legislation. Stay informed and be prepared!
During registration and at the session, you will have the opportunity to submit or present any questions you may have on this topic. Our esteemed panel will answer them live during the Q&A session of the webinar.
Did you attend Part I: Post Moratorium Eviction Practices, and have questions? Attend Part II to have the opportunity to get those questions answered.

The webinar will cover:
Recap and overview of Part I: Post Moratorium Eviction Practices
Outline of the newly issued CDC Order temporarily halting certain residential evictions through December 31, 2020
Understanding state and federal legislation impacting Evictions
Eviction Activity Forecast
Nonpayment Notices: 30/3 notice day applicability
Featured Presenter:

Barfield, McCain P.A. is an AV–rated® real estate law firm that is recognized throughout Florida's multi-housing industry for providing superior, cost-effective legal services to landlords, management companies and real estate professionals. An AV rating by Martindale Hubbell, www.martindale.com, indicates that a lawyer has reached the height of professional excellence and is recognized for the highest levels of skill and integrity. Barfield, McCain, P.A. has been a leader in landlord representation in Florida for over 30 years.
The Firm and its members have served and continue to serve the local, state, and national apartment associations in volunteer capacities as both directors and on various committees.  The Firm has been published on numerous occasions in FAA's Multifamily Florida quarterly publication and frequently teaches Landlord-Tenant legal seminars, Fair Housing legal seminars, and CAM seminars to property management companies and property managers throughout the state. Presenting on behalf of the firm will be David Setaro, Ryan McCain, and Darren Ayoub.
For any questions, please contact events@sefaa.org.
---
*Event prices, dates, and times are subject to change.
In the instance this event is postponed, SEFAA will notify any registrants and promptly provide updates.
CANCELLATION POLICY: Cancellations and No-Shows are still responsible for payment. If you cannot attend the event, please remember that your registration is transferable for the same event. If you send someone to replace the original registrant, please ask that person to give the name of the person they are replacing at check-in. This will help prevent double billing.
Accounts Receivables: If your account is past due 60 or more days, you will not be able to register for any of our upcoming programs, seminars or educational events until your account is brought up to current. Account can be brought current through Member Compass or calling the SEFAA office at 561-447-0696.
Agenda
October 14
9:50 AM - 10:00 AM

Check-in: Waiting Room will Open

Please note the live webinar will start promptly at 10:00 AM.
10:00 AM - 10:45 AM

Presentation

10:45 AM - 12:00 PM

Live Q&A
For More Information:
352 NE 3rd Avenue
Delray Beach, Florida 33444
800.627.7921
Remember to Visit our Hurricane Preparedness Page!
Hurricane season occurs from June 1 - November 30. In the case of a storm, our Hurricane Preparedness page will be updated with the latest news, updates, and guidance for the multifamily housing community. Check it out now for local emergency kits, shelter locations, important contact info, and more.

VIEW THE HURRICANE PREPAREDNESS PAGE


Thank You to our Sponsors!