Back to Events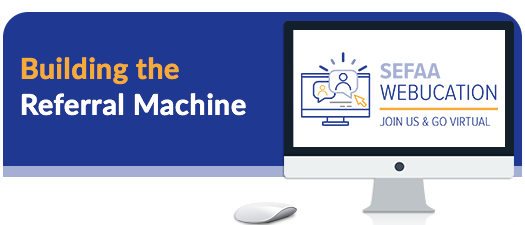 Webucation Series: Building the Referral Machine
Wednesday, August 5, 2020
Zoom Webinar - Instructions along with the link to access the presentation will be sent to registered attendees.
* Registration open until 8/4/20 at 3:00 PM ()
Event Details
Building the Referral Machine
For anyone in business development. Specifically, professionals who want to build their business and sales skills in these virtual times!
Today more than ever, professionals are realizing the importance of marketing. Just being good at what you do, even being the best at it is not enough. Since traditional networking is not available for professionals so what do they do?
Develop a networking game plan
Create a strategy for attending networking events on-line
Build your business through generating appointments from every event
Establish your business as unique from your competition
Learn how to grow your business the smart way

MEET OUR SPEAKER
Greta Schulz | President & CEO
Schulz Business SELLutions
Greta Schulz is the president and CEO of Schulz Business SELLutions based in West Palm Beach. She has been involved in sales, sales management, marketing, and training for almost thirty years. She is a National columnist of "Sellutions" in over 30 Business publications across the country and a contributing author of New York Times bestseller Masters of Sales. Greta has her own bestseller she's written called, "To Sell is NOT to Sell", now on its second edition. She is also a regular guest on the nationally syndicated "Entrepreneurial Excellence Radio Show" As seen on business talk shows on ABC and NBC, Greta helps organizations improve their sales processes and build their businesses on referrals. Greta is also a noted motivational speaker speaking to large corporations and organizations around the nation.

Greta has worked extensively with entrepreneurs, small businesses, as well as fortune 1000 companies. She has been seen on business talk shows on ABC and NBC. Greta is a top national speaker. Click here to learn more.

WHO SHOULD ATTEND?
Everyone who is involved in sales in any way.
PRICE
Members: FREE
Non-Members: $20.00


NOTE: This webinar is exclusive for only registered registrants. Attendees that sign up will receive instructions along with a unique code to access the presentation.

For any questions, please contact events@sefaa.org.
---
*Event prices, dates and times are subject to change.
In the instance this event is postponed, SEFAA will notify any registrants and promptly provide updates.
CANCELLATION POLICY: Cancellations and No-Shows are still responsible for payment. If you cannot attend the event, please remember that your registration is transferable for the same event. If you send someone to replace the original registrant, please ask that person to give the name of the person they are replacing at check-in. This will help prevent double billing.
Accounts Receivables: If your account is past due 60 or more days, you will not be able to register for any of our upcoming programs, seminars or educational events until your account is brought up to current. Account can be brought current through Member Compass or calling the SEFAA office at 561-447-0696.
Agenda
August 5
8:50 AM - 9:00 AM

Check-in: Waiting Room will Open

Please note the live webinar will start promptly at 9:00 AM.
9:00 AM - 10:00 AM

Program: Building the Referral Machine

Presented by Greta Schulz, Schulz Business Sellutions
For More Information:
352 NE 3rd Avenue
Delray Beach, Florida 33444
800.627.7921
Remember to Visit our Hurricane Preparedness Page!
Hurricane season occurs from June 1 - November 30. In the case of a storm, our Hurricane Preparedness page will be updated with the latest news, updates, and guidance for the multifamily housing community. Check it out now for local emergency kits, shelter locations, important contact info, and more.

VIEW THE HURRICANE PREPAREDNESS PAGE
Thank You to our Sponsors!